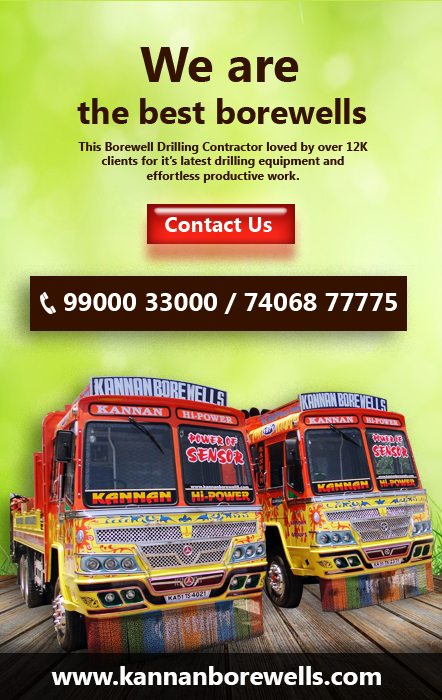 Our Borewell Services
We believe that clients shouldn't have to compromise when it comes to productive borewell projects. So we work hard to provide a great experience. We undertake various borewell services such as:

Ground Water Survey
Once the depth of the water source is known then drilling the borewell to that depth will definitely provide some amount of water. We provide groundwater surveyors to find the quality and quantity of water to make the best use of our drilling rigs.
Finding water point is quite challenging work, drilling deeper wells without adequate information may become extremely costly. But our mission is to provide our services at affordable price.

Tubewell Drilling & Waterwell Drilling
The borehole will be drilled in two methods such as surface drilling and in-well drilling. Borewell will be drilled for required measurement for the required depth based on the availability of the groundwater.
There are various diameters for drilling as per the usage of borewell such as domestic purpose, agricultural purpose, industrial purpose and so on. Our team offers all types of borewell drilling work.

Borewell Cleaning & Maintenance
A borewell must be cleaned time to time for the safety of the borewell. We have a professional team they undertake borewell cleaning and borewell flushing work through high-pressure air compressor to clean dust or wastes inside the borewell.
The process of borewell cleaning helps to get clean water for domestic, agricultural or any of industrial purpose. We offer borewell cleaning services at a very affordable price.

Borewell Recharging
To maximize the benefit we encourage you to take up recharge for existing borewell. Borewells are recharged using different techniques that will result to increase the water level in the existing borewells. By proper management and utilization of rainwater even dried borewells also can be recharged to increase the water level.

Borewell Repair Services
We have trained expertise to repair existing borewells by using the good equipment.
We also deliver excellent customer support after any of our borewell services based on the need of the customer.

Installation of Pumps
Kannan Borewell offers installation of pumps, adding proper oil to the pumps based on basic checks and steps prior to install the pump and the driver.